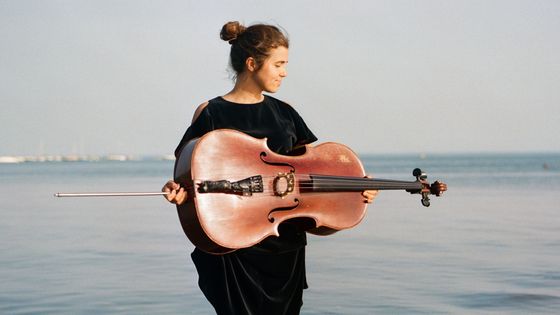 Dom la Nena (Dominique Pinto) was born in 1989 in Porto Alegre, Brazil. She began playing the piano at the age of five before switching to the cello three years later. At the same time, his family moved to Paris. A difficult acclimatization for the little girl.
Back in Brazil, Dom La Nena wrote to the virtuoso cellist Christine Waleska to obtain the favor to follow her teachings, she won her case and left for Buenos Aires.
Having become an accomplished musician, Dom la Nena returned to Paris at the age of eighteen, where she met Jane Birkin who hired her on a tour. It is then the turn of Jeanne Moreau, then Étienne Daho, Sophie Hunger, Camille and Piers Faccini. The latter lends her his personal studio in the Cévennes, where she records the thirteen songs of her first album. The Italian musician also enriches the album with his arrangements. The very personal repertoire of Dom La Nena seduces and dazzles, so much so thatElareleased in February 2013, is among the best-selling world music in the United States.
The year after appears Birds on a Wire , the result of a collaboration carried out on stage with the singer of the group Moriarty, Rosemary Standley. The cover album, very eclectic, mixes baroque music, world music, folk and rock. Dom La Nena then devoted himself to the composition and recording of his second album in the company of Marcelo Camelo, of the ensemble Los Hermanos, the result, Soyo released in June 2015. Followed by Cantando (2016), including a cover of " Old " by Jacques Brel. His third album produced by Noah Georgeson, Time (2021)includes the duo "Quien Podra Saberlo" with Mexican singer Julieta Venegas.
News:
Interviewed in the Matinale de France Musique, Thursday April 6
The Album Leon in which Dom La Nena pays homage to Léon, his cello, is released on April 7.
In concert on Wednesday June 7 at the Théâtre de l'Athénée in Paris
Tour:
March 31 – Cherbourg
April 18 & 19 – Cully
May 3 – St Nazaire
May 4 – Bath of Brittany
May 9 – Erstein
May 19 – Lignières
May 26 – Bordeaux
May 30 – The Eagle
May 31 – Saintes
June 7 – Paris – Athenaeum Theater
June 27 – Niort
July 21 – Mouans Sartoux
July 22 – Thomery
Musical programming:
Dom LA NENA : Arabesque
Dom La Nena, cello
0
Heitor VILLA LOBOS : Bachianas brasileiras n°1. 2. Preludio (Modinha)
Brazilian Symphony Orchestra
IRIS MUSIC
Camille Saint-Saëns
Cello Concerto No. 1 in A min op.33. 2. Allegro con moto
Christine Walevska, cello
Monte-Carlo Opera Orchestra
Eliahu Inbal, director
DECCA 1974
Birds on a Wire / Henry PURCELL: O loneliness
Rosemary Standley, voice
Dom La Nena, cello
AIR RYTMO
Caesar Frank : Sonata for violin and piano in the maj. 1. Allegro ben moderato – arr. cello
Jacqueline Dupré, cello
Daniel Barenboim, piano
WARNER CLASSICS
Sergei RACHMANINOV : Piano Concerto No. 3 in d minor op.30. 1. Allegro ma non tanto
France Clidat, piano
Royal Philharmonic Orchestra of London
Zdenek Macal, director
FORLANE FIORETTI