Published on March 27, 2023 at 7:00 p.m.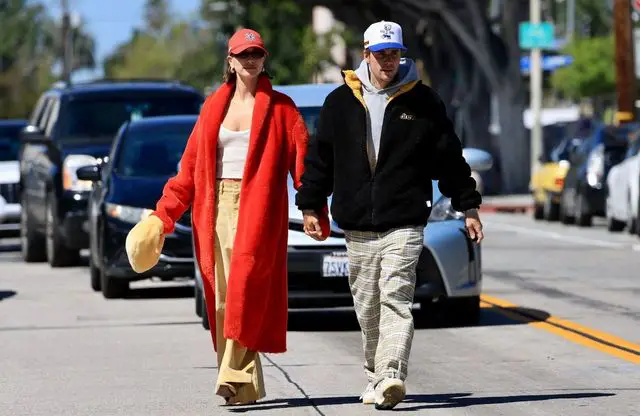 Justin and Hailey Bieber were spotted on the streets of Los Angeles on March 26 as they left the Great White restaurant.
Justin and Hailey Bieber were seen, more in love than ever, in the streets of Los Angeles on March 26. The couple were leaving the Great White restaurant in West Hollywood when they ran into the photographers. Hand in hand, the lovers even exchanged a kiss when leaving the cafe.
To go to brunch, Kylie Jenner's friend opted for a long orange faux fur coat, under which she wore a white tank top and pale yellow oversized pants. The whole thing was accessorized with a cream-colored plush handbag. For his part, the interpreter of "Baby" wore a gray hoodie topped with a black jacket from his own brand, Drew. The set was associated with plaid pants, white sneakers and a two-tone cap.
Read also: Legendary couple: Justin Bieber and Hailey Baldwin, from carefree adolescence to close marriage
United against bullying
On March 24, Selena Gomez shared a touching message in her Instagram story, in which she asked her community to no longer bother Justin Bieber's wife. The relationship between the two women has always been conflictual, but this time things have gone too far according to them. The singer with 403 million subscribers on Instagram wrote on this same network: "Hailey Bieber contacted me and let me know that she had received death threats and many hate messages. That's not what I stand for. No one should be the victim of hatred or intimidation. I've always been about kindness and I really want this to end. »
©Instagram / haileybieber
A request to which Alec Baldwin's niece hastened to respond: "I want to thank Selena Gomez for talking about this. She and I have been talking for the past few weeks about how we can move past these stories. The past few weeks have been very difficult for everyone involved. The model also promised to pay more attention to her comments in the future, in order to avoid any confusion.