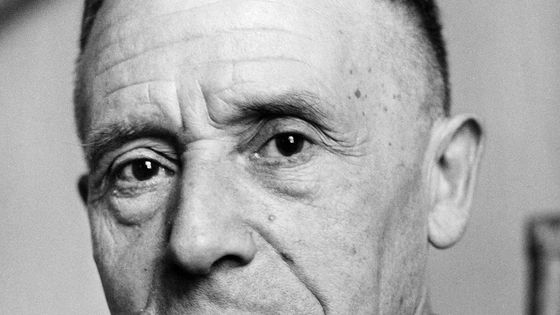 Probably written between 1946 and 1950, i.e. just before his Prix Goncourt in 1951 with Le côte des Syrtes; this short novel entitled "The House" and depicts a fascination for a house that he sees daily from the window of a bus crossing the countryside during the Occupation. The publisher Maël Guesdon specifies that this text is not one of the 29 notebooks whose publication Gracq has banned until 2027. I went to meet Gwenaëlle Abolivier so that she could tell us more about this new text by Julien Gracq.
Along the river
"He manages in this short text to recreate this climate of strangeness and mystery, very close to the writing of Gracq" Gwenaelle Abolivier
Short text, La Maison collects and condenses all the essential components of Gracq's work. We find both the onirism and the evanescence of his evocations, as well as the enigmatic dimension of his most famous fictions such as the Château d'Argol, the Rivage des Syrtes or the Balcony in the forest.
This reverie takes place in a very everyday universe, certainly steeped in the experience of the author at this time who, as a teacher in Angers, then traveled daily along the Loire, from upstream to downstream. The writing takes its sources in this reality to plunge little by little into a world that intertwines memory with dreams.
An open house
If at first glance, the conciseness of the text can challenge the reader on its romantic nature, it must be remembered that the author is accustomed to formal experiments. Capable both of producing novels now considered classics and of condensing his universe into more collected, even fragmentary formats, Julien Gracq works here in a generically undecidable form, which has the effect of opening up the field of possibilities.
"When I read the house, I rather have the impression of the beginning of something. We want to invent the sequel, we want to read it." Gwenaelle Abolivier
One life, one work



59 mins

Artistic and literary continuities
Enhanced by his manuscripts, the edition of La Maison is also a nod to the recent change of direction at Editions José Corti, which was founded in 1938 when Julien Gracq published his first novel there. Also, the publication of La Maison is a way of renewing their common history.
Julien Gracq's house has been the laboratory for contemporary creations and writing since 2013. Gwenaelle Abolivier, artistic and literary director of the Julien Gracq house describes an open place, welcoming meetings, readings aloud and colloquia. Herself an associate author, her work prolongs and deploys the author's heritage, notably in an upcoming work "La forme du Fleuve".
"This fragmentary poetic writing deployed on the territory inspires me enormously" Gwenaelle Abolivier
News: