Published on March 27, 2023 at 2:41 p.m.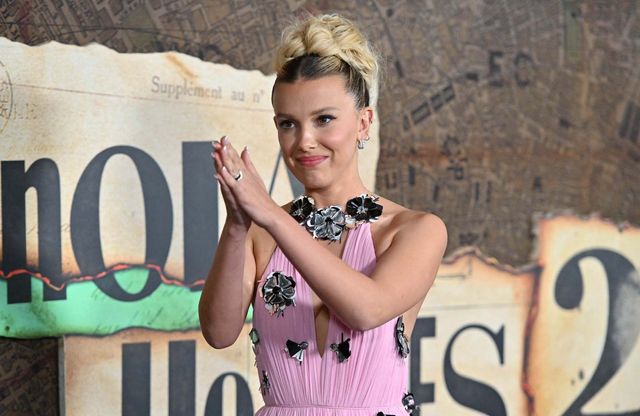 Millie Bobby Brown has written a very personal book inspired by her grandmother's life during the Second World War.
When she's not on set, Millie Bobby Brown writes. According to the indiscretions of the "Los Angeles Times", the 19-year-old actress is about to publish her first novel with HarperCollins editions. Entitled "Nineteen Steps", it is expected on September 13, across the Atlantic. For now, the release date of the French version is still unknown.
Read also >>> Child star: Millie Bobby Brown, from "Stranger Things" to Generation Z icon
Regarding the plot, Millie Bobby Brown was inspired by the past of her grandmother during the Second World War. The latter indeed survived the Bethnal Green disaster, in March 1943, in the London Underground. At that time, the station served as an air raid shelter. When an alert sounds, a crowd rushes there to find refuge. In a panic, a woman carrying her baby slips down the stairs, causing a major scramble. 173 people, including 62 children, died there, most of them by asphyxiation.
"Inspired by my grandmother Ruth, this book is very personal and dear to my heart", explains Millie Bobby Brown in a press release relayed by the American media. "I grew up listening to the stories of his life during the war. I feel honored to keep his story alive. »
According to the statements of the publishing house, the story of "Nineteen Steps" therefore takes place during the Second World War, in Bethnal Green, in a district located east of London. Nellie Morris, 18, an employee at the town hall, falls in love with Ray, an American airman. But an air raid disrupts this new life. "A deeply moving and compelling page-turner inspired by the author's family history," says the HarperCollins site.
Soon to be back in "Stranger Things" season 5
If she takes her first steps as an author, the young woman does not desert the film sets. In the casting of several feature films ("Damsel", "The Girls I've Been", "My secret life with jellyfish"), the actress will soon reconnect with the dark universe of "Stranger Things". Fans of the series will soon find her in the fifth and final season of the hit show.