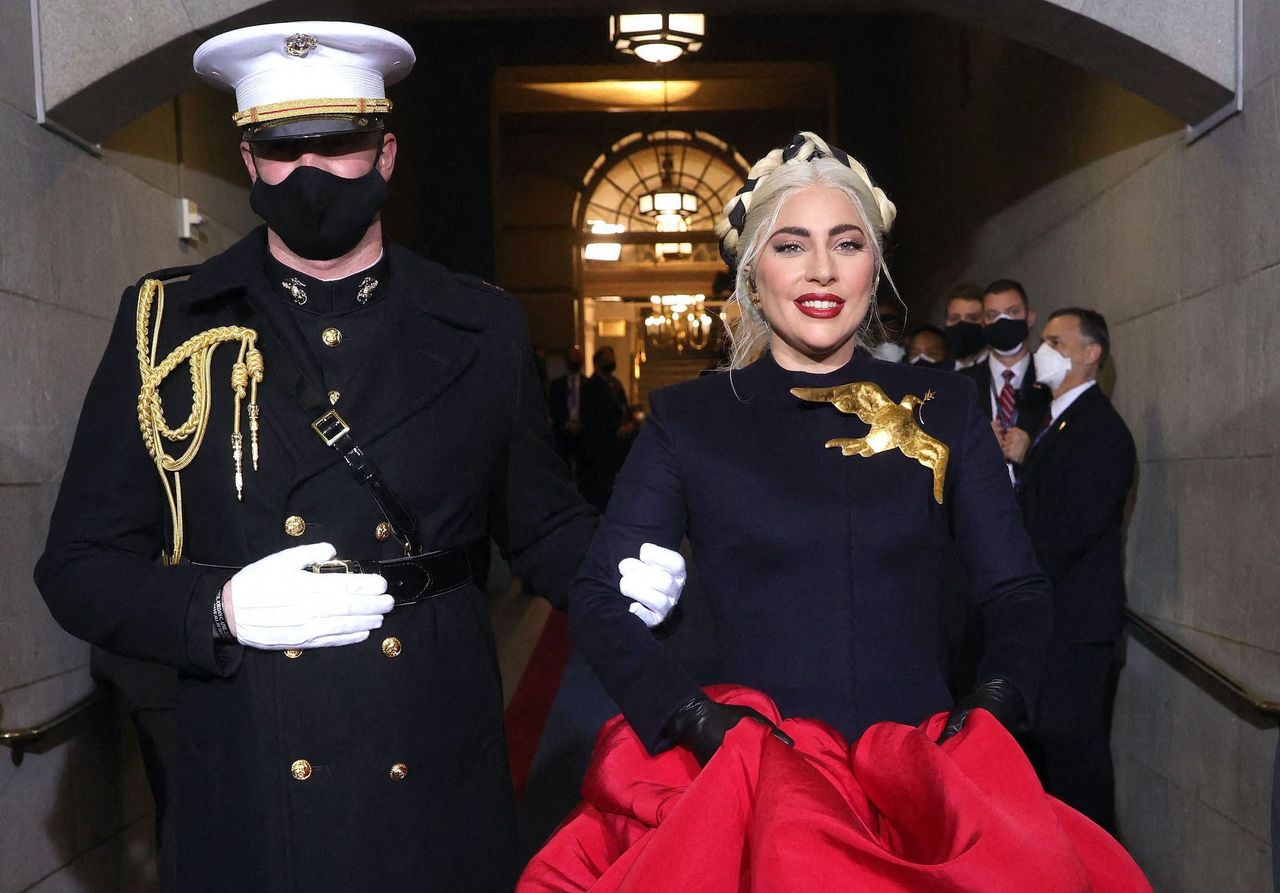 January 20, 2021. After a turbulent election campaign and a victory over Donald Trump, Joe Biden officially becomes the 46th President of the United States. In front of the Capitol in Washington, stormed a few days earlier by Trumpist supporters, the American head of state was sworn in alongside Vice President Kamala Harris. A ceremony punctuated by a musical intervention orchestrated by Jennifer Lopez and Lady Gaga. The interpreter of "Poker Face" was invited to sing "The Star-Spangled Banner", the national anthem of the United States. A moment rich in emotions of which she revealed a fashion detail kept secret until then.
Also to read >>> Lady Gaga: the mystery of her haute couture Valentino dress forgotten at the hotel
Make fashion and safety rhyme
In an interview with the magazine "Vogue" UK, the singer returned to this ceremony. "Today is one of the proudest days of my life. Like many people in the United States, I felt a deep fear as long as Trump was president, and I would surely tell all my children about this passage from the 45th to the 46th president, "she confessed. If we thought we had read everything about the event, Lady Gaga indulged in a few secrets, especially about her outfit. That day, the singer wore a sublime Schiaparelli dress consisting of a fitted navy blue jacket and an extra-voluminous red skirt. The well-kept secret of this outfit? Underneath this haute couture piece was a bulletproof vest. "It's one of my favorite outfits. I wore this Schiaparelli design for the nomination, and nobody knows it, but it's a bulletproof dress," revealed the one affectionately known as the Queen of Pop. A protection system reserved for professionals, but mandatory for this day under high tension.
A tribute to its origins
At the time, a fashion detail had been much commented on. On his jacket, one could see an imposing gold brooch representing a dove holding an olive branch. A symbol of peace that some moviegoers have associated with the emblematic bird of the film "Hunger Games", synonymous with courage and fighting spirit. In a press release, Daniel Roseberry, the artistic director of the Maison Schiaparelli had made a point of detailing the inspirations of his creation: "As an American living in Paris, this set is a love letter to this country that I miss so much and to a performer whose talent I have admired for so long. Maison Schiaparelli is honored to dress the iconic Lady Gaga on this historic inauguration day. God Bless Lady Gaga and God Bless America". An origin story, then. For the main interested party, the same observation. "Schiaparelli being an Italian fashion house was something I really, really wanted to do for my legacy as an Italian-American woman who was going to sing for the arrival of the 46th President of the United States," he said. she explained to "Vogue" magazine. A great fashion moment that marked the year 2021.
Also to read >>> Daniel Roseberry, Schiaparelli: "Dressing Lady Gaga for Joe Biden's inauguration was the best opportunity of my career"