Published on March 28, 2023 at 8:25 am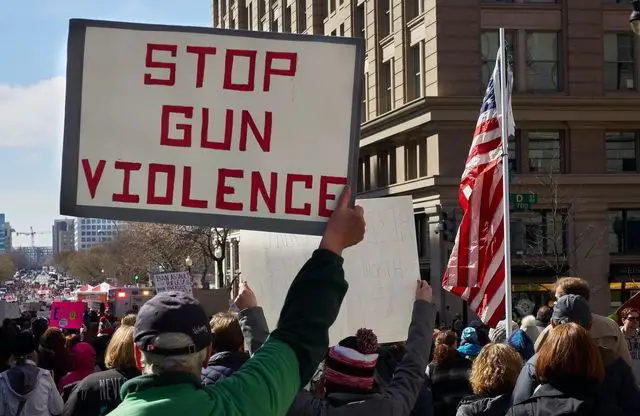 A new mass shooting left seven dead, including the assailant, at the Covenant School in Nashville. The shooter would be a former student.
Seven dead, including three children: this is the toll of the March 27 shooting in Nashville, Tennessee. Rarely, the assailant is a 28-year-old woman, Audrey Hale, who identified as a trans man according to initial information from the police.
The motivations behind this attack have yet to be defined, but the investigators evoke a feeling of resentment towards the school establishment on the part of Audrey Hale. The young woman herself would have been educated in this Christian primary school in 2005 and 2006, for the years of CE2 and CM1.
Audrey Hale reportedly entered the school mid-morning by shooting at a glass door. Armed with two assault rifles and a revolver, she killed three adults, including the school principal, and three children aged eight and nine before being shot dead by law enforcement. One of the victims has been identified as Hallie Scruggs, the daughter of Chase Scruggs, the pastor of this school founded by a local Presbyterian church.
Nashville Police Chief John Drake said documents found in the assailant's car, including a map of the school and emergency exits, show the attack was carefully planned. A "manifesto" discovered at Audrey Hale's home reveals that the school was not her only target.
READ ALSO >> Uvalde shooting: on the carrying of weapons, "a legislative immobility as appalling as it is inevitable"
This new shooting comes once again to revive the debate on the regulation of firearms in the United States. Two of the three weapons used by the assailant had been purchased legally, prompting President Joe Biden to once again call on parliamentarians to ban assault rifles.
About 400 million firearms are in circulation in the United States, where in 2020 they caused more than 45,000 deaths by suicide, accident or homicide, according to the latest figures from the Centers for Disease Prevention and Control (CDC). ).
School shootings represent only a small portion of the gun violence that plagues the United States, but they are particularly significant. One of the last mass school shootings was in May in Uvalde, Texas. 21 people died, including 19 children.