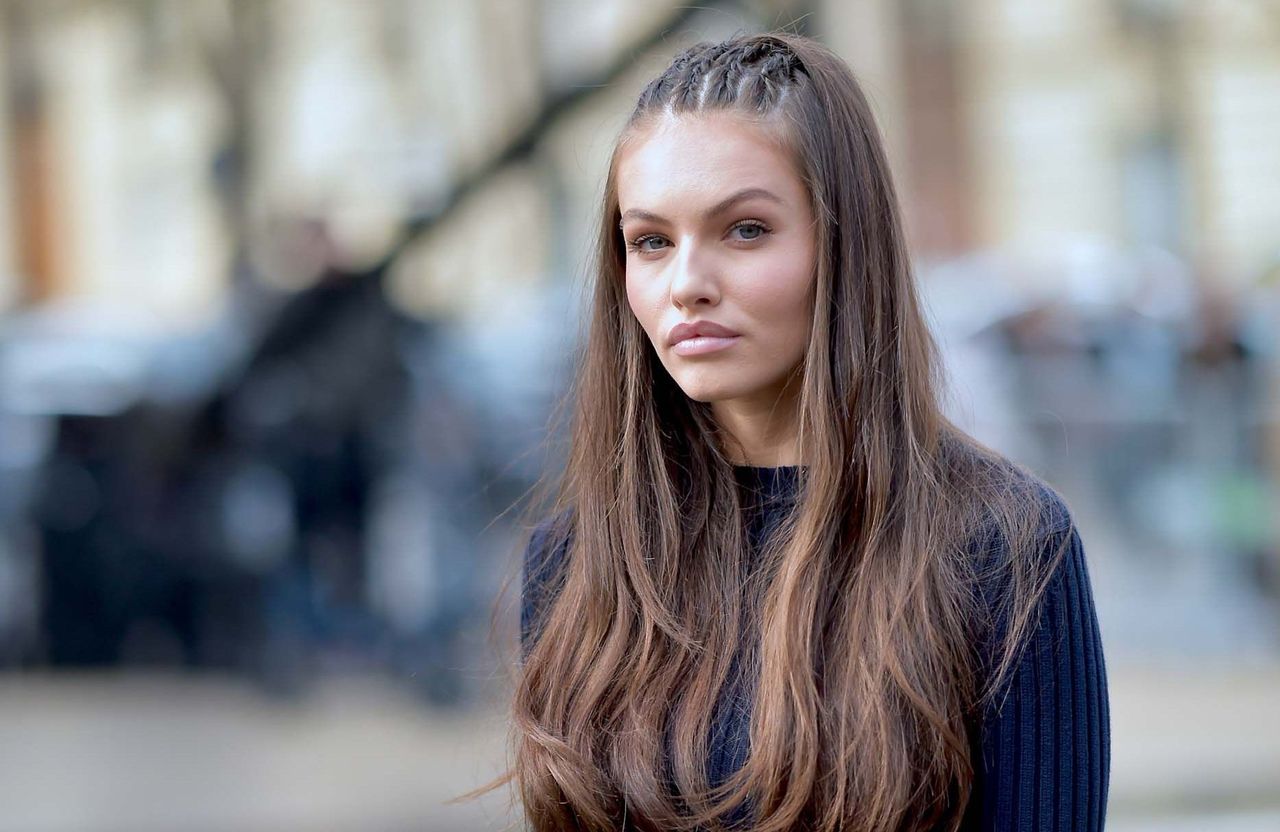 A family used to the spotlight
Born April 5, 2001, Thylane Blondeau is the daughter of former presenter Véronika Loubry and former professional footballer Patrick Blondeau. The couple separated in 2016, after more than 15 years together, a break caused by the "professional constraints of each", according to the announcement of the magazine "Closer".
Thylane Blondeau grew up remaining very close to her mother, the latter claiming to "Gala" in 2018 to have "even a form of mimicry" between them. However, the same is not true for his father. "I never had a close relationship with my dad", she declared to "Gala" in 2019, "if I am here today, it is thanks to my mother of course, but also to my stepfather who came into my life three years ago. "Véronika Loubry has indeed been in a relationship for more than six years with Gérard Kadoche.
Coming from an advantageous heritage and genetics, the native of Aix-en-Provence became the star of the family at the age of 21, and this, since she was 4 years old.
Voted "prettiest girl in the world" at 6 years old… and again at 17
She is still a child when you discover her captivating face and turquoise eyes. At only four years old, she walked for Jean Paul Gaultier during Paris Fashion Week. But she really made herself known throughout the world when, at the age of six, she was voted "the most beautiful girl in the world" by the American magazine "TC Candler", known for its annual ranking "The 100 Most Beautiful and Handsome Faces". Her modeling career then began. In 2010, she posed for a supplement to "Vogue" magazine, a shoot that caused controversy and launched a debate on the hypersexualization of children. Four years later, she is in another magazine, "Jalouse", she poses in 2015 for "Teen Vogue" and thus begins to appear more in fashion advertising campaigns. At 16, Thylane Blondeau became the face of L'Oréal Paris alongside Eva Longoria, Leïla Bekhti and Kate Winslet as well as the Dolce & Gabbana campaign for which she paraded with Gabriel-Kane Day-Lewis, son of Isabelle Adjani and Daniel Day-Lewis. This will be her first fashion show.
In 2018, the model with 6.6 million followers on Instagram was once again voted "the most beautiful girl in the world" by the media "TC Candler". A distinction which confirms her place in modeling but does not make the task any easier for Thylane Blondeau. "In Aix-en-Provence, this distinction did not matter. […] And then, when I take a look at social networks, I quickly realize that there are women much more beautiful than me. It was nice to repeat that I was sublime, I do not trust myself, "she said to" L'Obs "in 2022.
Currently 21 years old, the young model was chosen to represent France in Carine Roitfeld's parade during the 2022 Football World Cup. A show held in Qatar in front of 40,000 people. "Every country has the face of a model. In all the modeling agencies in the world, countries have chosen their models, "explained his mother in an Instagram post. Thylane Blondeau is indeed in the agency IMG and Brave Models, thus continuing her modeling career, while taking dance, comedy, singing and piano lessons. She recently walked for Diesel during Milan Fashion Week.
Next to modeling
In parallel with this brilliant career under the lens of the greatest, the model has also proven herself in the world of the seventh art. In December 2015, she starred in a film for the first time, "Belle et Sébastien: The Adventure Continues", in which she played opposite Thierry Neuvic. This experience led her to climb the steps of the Palais des Festivals during the Cannes Film Festival in 2016, as the face of L'Oréal. She has since made no appearance on the big screen, but continues to climb the famous steps.
In 2020, she also launched her own streetwear brand, No Smile. "I was suspected for a long time of being sad and of doing this job because I didn't smile. I assure you, I am very happy. But it's not because I'm a model that I don't have complexes, like my smile. Hence the wink with No Smile", she explained to "L'Obs" last year. However, the brand has not been available since 2021.
On the heart side, Thylane Blondeau has shared her life with Benjamin Attal since 2020. The couple aroused suspicion of an engagement in 2021 after updating their Instagram biographies by adding the mention "Engaged" ("Engaged").