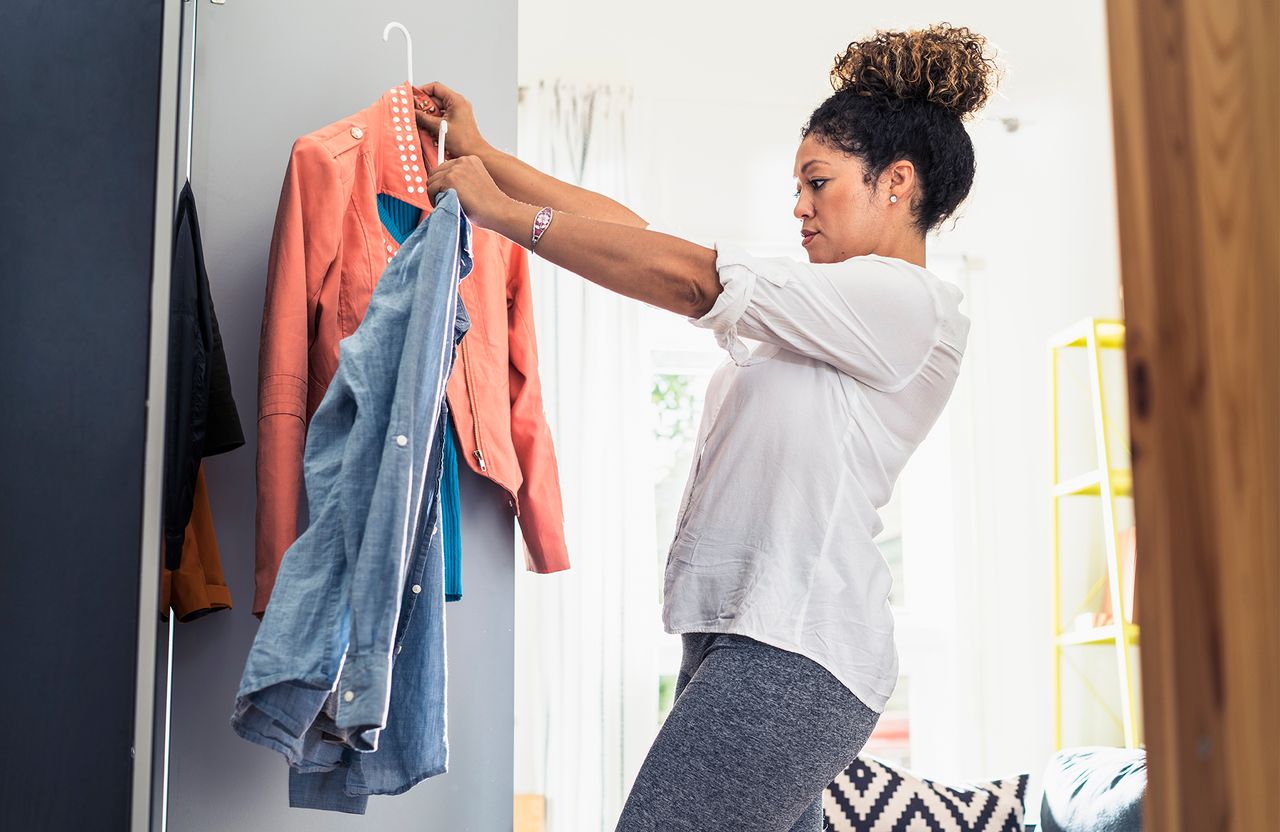 Revise your classics
I notice it during meetings in wardrobes: you can transform yourself by using the contents of your cupboards differently. It is sometimes very disturbing. "I didn't think I had a dressing room with so much potential, I find it hard to believe that it's my business", I am told regularly. So if you're tired of wearing the same thing all the time, explore those areas of your wardrobe that don't often see the light of day. If you like the unearthed pieces and still fit you, you will find new ways to wear them thanks to the clothes and accessories that have arrived since their acquisition. Also look at your classics and more committed pieces with the most neutral eye possible. Put your prejudices aside and develop silhouettes that change and look like you. Create new encounters to mix colors and prints. Innovate by mixing highs and lows in different ways. Dare contrasts that amuse you… The limit not to be exceeded is when you feel disguised. It takes a little imagination and daring but you will see that the exercise is revealing. Do you lack inspiration or self-confidence to create new silhouettes? Start with the accessories: a change of shoes can be enough to breathe a whole new spirit into an outfit. If you get caught up in the game, you'll feel like you've shopped in your closet by winning a wardrobe that didn't cost you anything.
Mix genres
It's a trick to multiply the looks and radically change the atmosphere. But once again, to clash styles, use it at home. Masculine-feminine, sport-glamorous, day-evening, rock-bohemian… Follow your tastes and invent your compositions. For example, recycle chic pleated pants with sneakers; a basic skirt with a bold striped polo shirt; a long English embroidery dress with a perfecto; a t-shirt dress with clogs; a silk blouse with biker boots; a BCBG polo shirt with leather pants…
Brew the seasons
When you make your winter/summer switch, reserve a pile for clothes that you usually put aside but which, by adapting them, can be worn all year round. Finally, apart from the pieces too marked by their favorite season (summer = beach dresses, light shorts, sandals // winter = warm pants, thick knits, lined boots), tell yourself that you can combine almost anything. This is what brands offer by selling light folk blouses and dresses in winter: just warm them up with cardigans or jackets. Another example: keep the "Christmas garlands". Shiny blouses, glitter pants or sequined tops usually reserved for party nights go very well with quieter pieces. For example, a sequined skirt with a t-shirt and sneakers immediately comes out of context.
Borrow from others
Cunning is not cheating! Take a look in the closets of your man, your teenager, your father, your grandmother… Not to dress up but to appropriate the piece that will motivate a look: a man's jacket over a light dress, a rock t-shirt tucked into a pencil skirt below the knee, a grandfather shirt tied over leather jeans, an open denim shirt over a thin turtleneck, a big country cardigan over denim overalls, a sweater loose sailor tucked inside-out casual corduroy trousers; a shimmering silk scarf with everything…
Layer without bulking up
There's nothing like layering to style a look. If you master the little collar sticking out of a shirt, you'll know how to slip a sailor top or a shirt under a jumpsuit, a hoodie under a trench coat, a second-skin sweater under a dress with straps… Repeat the exercise by adding a additional layer and by playing with different heights (the second layer is longer than the third). Out of ideas? Follow the guide: thin turtleneck + white shirt + blazer // peppy t-shirt + denim shirt + perfecto // undershirt + sleeveless sweater + blazer // blouse + long cardigan + jacket…
Transform your clothes
If you are lucky enough to love sewing, take inspiration from the tutorials that are swarming on the net to upcycle the pieces that no longer suit you and give them a second life. Otherwise, think about contacting a retoucher who will be able to adjust pants that are too big, transform a dress that is too tight into a blouse or create a dress from a skirt… More modestly, you can customize clothes by dyeing or with a few scissors and needles: cut the sleeves and bottom of a sweatshirt, fray the collar of a shirt, shorten jeans that are too large to create shorts, change the buttons on a jacket… Even simpler, replace the soulless belt of a dress or trench with one with more personality. Belt a long vest or a blazer with a chic belt or a folk belt in embroidered fabric. Also consider rolling up the sleeves of a slightly large jacket and rolling up the bottom of the pants to change the dynamics of the silhouette. Now get started!