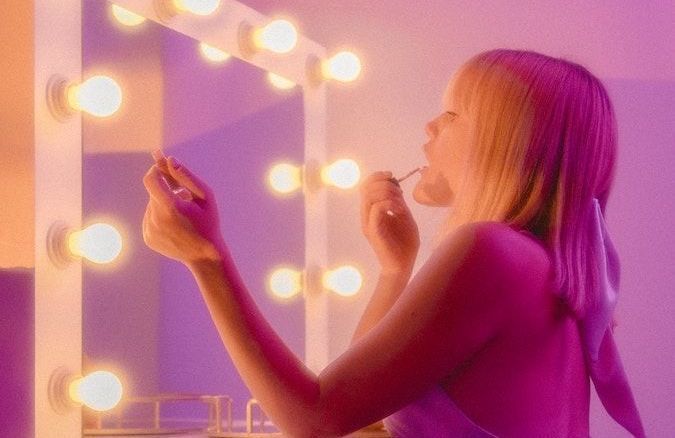 I started putting on make-up quite young, around twelve or thirteen. At the beginning, I had fun with eyeshadow and mascara to make it more "adult". I had been waiting for this moment for years, seeing my mother wearing makeup and the photoshoots of teenagers with kohl-rimmed eyes in my "Dico des Filles" collection. In high school, I began to suffer from severe acne which was ruining my life. To camouflage the scars on my face, I used drastic measures. Foundation, concealer, mattifying powder, everything was good to make invisible the multiple craters that appeared on my face. It didn't matter if I looked completely frozen under a thick beige crust. I spent hours in the bathroom and no longer dared to leave my room (yes, my room) naturally. It was becoming almost sickly. Impossible to get a glass of water in the kitchen if my buttons had not been trapped under a layer of L'Oréal Accord Parfait beforehand. Imagine the anguish during PE pool activity or sleepovers with my gang of friends. In the first case, I was diving into the municipal swimming pool at eight o'clock in the morning with a "full face". In the second, I went to bed without washing my face, taking care to do a few touch-ups every hour and get up before everyone else to look fresh when I woke up. I always had to control my appearance.
Read also >> "But you're super hairy on the back, actually!" ": these sentences that triggered our worst complexes
After taking Roaccutane for six months, my skin problems disappeared but other complexes took their place. It was now inconceivable for me to leave my house without makeup because my dark circles were too marked. If I had had a heavy hand on foundation in high school, I now opted for a lighter complexion and I took advantage of this finally perfect skin to explore the possibilities offered by makeup. Contouring, eye shadows, eyeliner and red lips, I finally took pleasure in having fun with these cosmetics, which no longer only served to hide me but to beautify me. I did not assume my true face for all that. Around my family or my boyfriend at the time, I didn't make any appearances without having applied concealer. I had it on me constantly. If I noticed that a tube of this precious product was reaching the end of its capacity, I planned a shopping spree several days in advance, to avoid finding myself helpless.
A dysmorphia that prevented me from loving myself naturally
And then I gained ten kilos. My acne has come back too, a nice gift for my 21st birthday. Dark circles were compounded by body dysmorphism, which still hangs over my head. I found my face changed, puffy, too big. The features I liked about myself a few years earlier were blurred, my eyes seemed too small, sunken in an unharmonious and less defined pile of flesh. To correct this, I was always wearing more makeup, sculpting my face like the Kardashians, smoothing every pore and elongating my eyes using techniques I learned on TikTok. As if I applied a filter every day and without it I was unable to accept myself. To the point of no longer recognizing myself once my makeup has been removed. During an interview for an article on our obsession with beauty filters, Jean-Christophe Seznec, psychiatrist and author of the book "I stop struggling with my body", explained to me that "by taking ourselves as a reference, we convinces us that we are capable of resembling our own ideal. We have always believed that we could reassure ourselves by seducing others but that today, we are more and more part of a seduction of ourselves. »
This distorted image of myself was confirmed by the behavior of those around me. I no longer count the remarks of strangers or relatives who found me looking tired, dull complexion and gray mine because I wore less makeup. Like the day a friend was lounging on my couch when I arrived lightly made up. Spontaneously, he complimented me: "I find you prettier naturally." Flattering note, but did he know that I had spent twenty minutes blending my bronzer to give my cheeks a more sunken effect? Boosted by the compliment, I decide to stop wearing mascara and leave my eyes bare for several weeks. Until the day when this same friend asks me "Are you sick? You look tired right now. "Since then, the question of walking around without makeup has not arisen.
A ski trip helped me ditch makeup
Like all problems in my life, I did not resolve this dysmorphia with therapy. It was a ski trip that freed me from the image I had of myself. A few weeks ago, I went on vacation in the mountains with about fifteen friends. Among them, some I know less well and with whom I would never have imagined showing my natural face. I feared their judgement, they who have always seen me dressed could have thought that I was lying about my physique. Arriving at the chalet, I see that the atmosphere is not glamorous. Everyone has been wearing the same jogging for three days and ski socks in slippers.
The first day, I get up earlier than everyone else to make room in the bathroom and lock myself in to apply concealer. There's a knock on the door: "What are you doing in there? We will be late on the slopes". I have the pressure, so I roughly blend the product under my eyes, shouting "I'm coming!" ". I haven't had time to finish my (long) make-up routine and I feel like I'm naked under my hat. Luckily, I'll have my sunglasses on all day. I put on makeup as if the gesture was shameful, knowing that my girlfriends would judge me if they saw me. Looking good during a weekend with friends skiing is useless and superficial. I can already see them telling me "But nobody cares! which is surely true.
So I leave for the day with practically bare skin, taking care to spread sunscreen all over my face to give it a "glowing" look. When I see my reflection in the window of the ski rental company, I realize that I look like I fell in the powder snow. The day goes by without me caring about what I look like. Back at the chalet, I am told that I have taken some color and I forget my cosmetic concerns. The next morning, in the dimly lit bathroom mirror, I feel beautiful without makeup for the first time in a very long time. My dark circles are marked, as usual. I have a few pimples on my chin (holy hormonal acne, which is not going to go away as I turn 25 in a few days). But the rosy complexion and a slight sunburn on my nose make me look good and make me forget these flaws that I would have tried to hide by all means in normal times. I just apply moisturizer and lip balm and walk away cheerfully. I even spend an afternoon at the spa without any artifice, ruddy after a stifling hammam session. When I return, I am told that I look rested. Who have I become?
The rest of the stay, I don't wear makeup. When I see my face in photos, I find it hard to think I'm pretty. I'm not used to this natural face. Of course, you can't deny that I look less fit than after practicing an hour of "strobing" with my beauty-blender. Even if the effort costs me, the fact of having overcome my fear of the judgment of others and my lack of self-confidence brings me great pride. A year ago, I would never have been able to. I wouldn't even have imagined it. Back in Paris, I started wearing makeup again because it makes me happy, stronger, more confident. Despite everything, I know that for my next trip to the gym or the neighborhood bakery, I will dare to go out au natural. Who knows, maybe one day I'll go on a date right after doing my skincare routine.