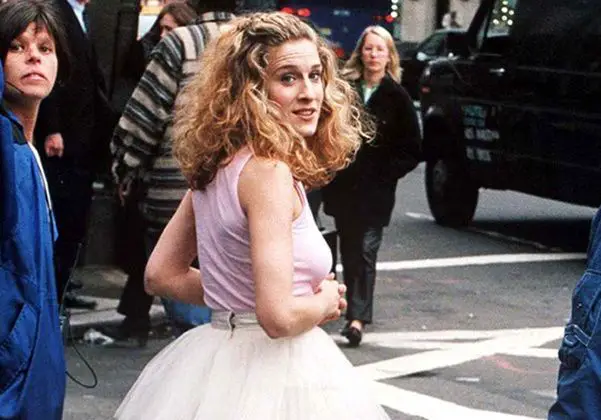 In 2021, the New York girlfriend gang (except Samantha Jones played by Kim Cattrall) made a comeback. For months (even years), the rumor circulated. This is today done. A total of ten episodes, one drama and one new plot available on the Salto platform. It was the main actress, Sarah Jessica Parker aka Carrie Bradshaw, who wanted to share the news with a surprise teaser where we could see images of New York as well as the pretty blonde typing on her computer keyboard "And just like that…" ("and just like that") – the name chosen for this new season – followed by "the story continues". A return that took us back to the best years of this cult series that will have marked pop culture. In the viewfinder of our flashback machine? Generic of course! The jazzy music, the slow-motion shots and the white tutu worn by Sarah Jessica Parker – who gets splashed by a bus – before each episode debut marked an entire generation. Because from the first seconds, the tone is set. Carrie Bradshaw is a fashionista whose audacity knows no bounds.
A cult tutu found in a thrift store
There are pieces with a fashion aura so powerful that they remain in our memories forever. This is particularly the case of this cult tutu worn by Carrie in the credits. For six seasons, he will be present on our television at the start of each episode. Since its first appearance, in 1998, this piece has been the subject of many comments. If the dressing room of the pretty blonde is not lacking in treasures, this tulle tutu is one of the most cult looks of the main interested party. And surprise, unlike her many Manolo Blahnik pumps and her haute couture outfits, this tutu was unearthed by the show's chief costume designer, Patricia Field, in a thrift store. Even better, at the time, it only cost the stylist 5 dollars (about 4 euros). A credits that offers us our first lesson in fashion: knowing how to bet on vintage. To be able to get it, we have two options left today: scour thrift stores around the world or go to Patricia Field's e-shop, inspired by the series. If the famous tutu is identical to the original, it is now available at a price of 140 dollars or about 115 euros. The Bradshaw effect!
A tutu that could have never seen the light of day
On the occasion of the 20th anniversary of the series in 2018, the American channel HBO decided to reveal one of the biggest secrets of the series. There is actually an alternate credits where the tulle tutu does not appear. In a never-aired version, Carrie wears a sky blue dress and stumbles upon seeing a bus pass with her picture on it. A slight modification that would probably not have changed the success of the series but that is almost impossible to conceive for the many fans.