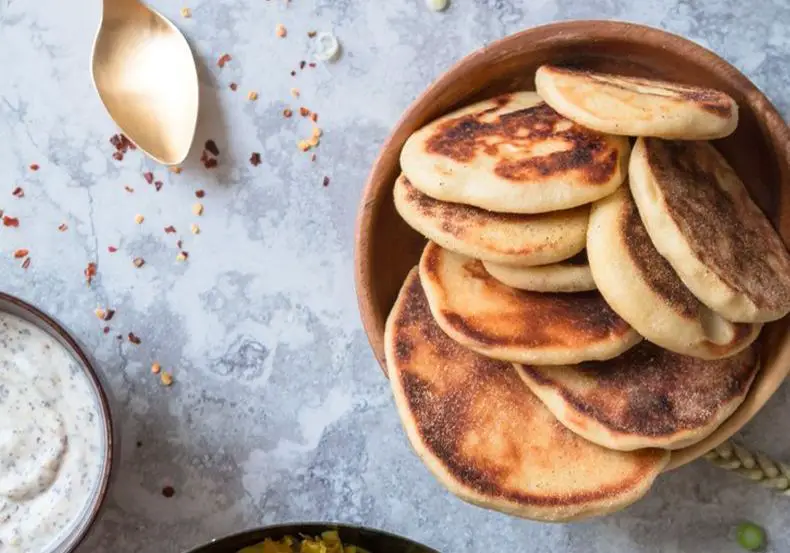 A must in Moroccan cuisine, batbouts are round buns cooked in a pan. They are found under different names in other neighboring countries of the Maghreb, and are very popular during the month of Ramadan. Batbouts contain little crumb, are particularly light, and generally used for the preparation of sandwiches. They can be stuffed with all sorts of fillings, savory or sweet, or eaten plain, to accompany a soup like the famous harira, or a tagine.
How to make homemade batbouts?
Ingredients
For about 15 small batbouts, you need 100g of flour, 100g of semolina flour, 1 tbsp. coffee dry active yeast, ½ tsp. coffee of sugar to activate the latter as well as 1 tsp. vegetable oil. To this are added 1 tbsp. coffee salt, and about 13 cl of warm water. Care must be taken that the water is not too hot, which would harm the yeast and prevent the dough from being soft and airy.
The recipe for homemade batbouts
In a small bowl, start by activating the yeast by adding the sugar and 1 tsp. tablespoon lukewarm water. Mix well, and let stand for about 5 minutes. Thus, the yeast will start its fermentation and produce, by feeding on the sugar, gases which will make it possible to obtain a soft and puffy dough.
In a bowl, mix all the ingredients (flour, vegetable oil, salt, and yeast) except the lukewarm water. Gradually add lukewarm water, mixing until a smooth paste is obtained. In order to prevent the latter from being too wet and sticky, add water gradually, adjusting the quantity according to the texture. If the dough is too sticky, just add a little flour.
On a floured work surface, knead the dough by hand for 10 to 15 minutes until it is very elastic. It is then divided into small balls of equal size (depending on the desired size), which is covered with adhesive film before leaving to rest for 20 minutes. Then, we flatten each piece of dough so as to obtain batbouts about 0.5 cm thick. We sprinkle both sides with a little semolina flour, before placing them a second time, under a cloth or adhesive film to let rest for 1 hour. Once the discs have doubled in size, preheat a lightly oiled pan. To finish, we cook the batbouts, which we turn about every 20 seconds, for 5 minutes, or as soon as the bread begins to swell. Each side should be lightly browned.
There you go, your round buns are ready. They can be eaten hot or cold, as an accompaniment, or with a garnish of your choice. They can be served as appetizers (we will then opt for the mini format) filled with a savory filling, or for breakfast in a sweet version.
Topping ideas for my homemade batbouts
Batbouts are the ideal solution for recycling leftover stews. Once the buns are ready, just fill them with your favorite filling. Like the sandwich, aperitif wraps, or baos, there are endless options: eggplant caviar, tuna and raw vegetables; cheese and minced meat; or even the star combo that is unanimous in Morocco: chicken, candied lemons and olives.
Batbouts can also be served for breakfast, spread with butter and honey for example, amlou or even cheese and jam.
Batbouts with chicken, candied lemons and olives
In a large saucepan, heat a little olive oil before frying 1 finely chopped onion for about 10 minutes, until soft and translucent. Then add 300g of chicken and 2 minced garlic cloves, 4 tbsp. chicken broth, ½ tsp. tablespoon turmeric and the same amount of powdered ginger. Mix everything together and cook for about 10 minutes, covered, over medium heat. Once the chicken is cooked, remove from the heat. To finish, add 1 finely chopped candied lemon from which the flesh has been removed beforehand, as well as about 50g of chopped green olives and a little fresh coriander. We mix everything before slipping this filling into the heart of our little batbouts. A delight that may make you completely addicted.
Batbouts with tuna and raw vegetables
In a bowl, mix 300g of canned tuna, 1 tbsp. mayonnaise, 1 can of corn, as well as finely cut pickles and 2 hard-boiled eggs in pieces. Mix everything before stuffing the batbouts one by one. We do not hesitate of course, to add or remove food according to his desires to create a recipe in his image. A real complete meal, easy to transport.
Batbouts with minced meat and peppers
In a frying pan, fry 1 finely chopped onion with a drizzle of olive oil. Once the latter is translucent, add about 300g of minced meat, as well as 1 green pepper and 1 red pepper, diced. Mix everything together and season with salt and pepper. Once the food is finished cooking, all that remains is to fill its batbouts with a spoonful of stuffing, and why not, cheese of your choice. We then melt everything for a few moments in the microwave.