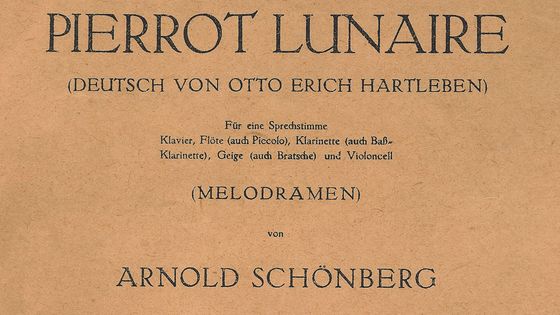 "In the morning I suddenly had a great desire to compose. Finally, after so long! I had even considered the possibility of never composing again… I'm curious to see how all this will evolve. On the other hand, I now know its origin: spring!!! I have always had my best time. I feel vibrations reborn within me. What almost resembles a plant to me. Every year it's the same thing. I have almost always composed in the spring."
Composer, painter and theoretician, Arnold Schoenberg has always considered his music to be the authentic heir to the German classical and romantic tradition. The one who proclaimed: there is still a lot of good music to be written in C major was, however, the initiator of an unprecedented atonal revolution.
A self-taught composer, Arnold Schoenberg cut his teeth by arranging and orchestrating operettas and popular songs. From 1894, he benefited from the advice ofAlexander Zemlinsky – his future brother-in-law – who teaches him the art of counterpoint. Fascinated by the music of
Richard Wagner and of
Johannes Brahms , Arnold Schoenberg composes early works in the German romantic tradition. From this period, he notably leaves one of his masterpieces – The transfigured night – composed when he was only 26 years old.
Having crossed the decisive turning point towards atonality, Arnold Schoenberg begins a period of intense creation where he brings the emancipation of dissonance to its paroxysm. It is in this period called "free atonalism" that the melodrama falls Erwartung And Lunar Pierrot. In the early 1920s, the composer perfected the serial dodecaphonism which he applies in his works to the point of pushing the process to its most extreme virtuosity.
Exiled to Paris and then to the United States where he devoted himself to teaching until the end of his life, Arnold Schoenberg was aware of having made a musical break with the past even if he remained convinced of being a conservative who had been forced to become a revolutionary.
In this episode of Musicopolis, focus on the Lunar Pierrot by Arnold Schoenberg!
-> Complete biography of Radio France Documentation to be found
here
Musical programming
Arnold Schoenberg (1874-1951) / Erich Otto Hartleben after Albert Giraud
Pierrot lunaire op 21 (1912) I. Mondestrücken (17-29 April)
Erika Stiedry-Wagner, recitation, Rudolf Kolisch, violin, Leonardo Posella, flute, Eduard Steuermann, piano, Stefan Auber, cello, Arnold Schoenberg, conductor (recorded in 1940)
Arnold Schoenberg (1874-1951) / Erich Otto Hartleben after Albert Giraud
Pierrot lunaire op 21 (1912) II. Colombina (April 20)
Helga Pilarczyk, recitation, Maria Bergmann, piano, Jacques Castagner, flute, Guy Deplus, clarinet, Luben Yordanov, violin
Agreement 476 8862
Arnold Schoenberg (1874-1951) / Erich Otto Hartleben after Albert Giraud
Pierrot lunaire op 21 (1912) III. Der Dandy (April 1-2)
Helga Pilarczyk, recitation, Maria Bergmann, piano, Jacques Castagner, piccolo flute, Guy Deplus, clarinet
Agreement 476 8862
Arnold Schoenberg (1874-1951) / Erich Otto Hartleben after Albert Giraud
Pierrot lunaire op 21 (1912) IX. Gebet an Pierrot (March 12)
Erika Stiedry-Wagner, recitation, Kalman Bloch, clarinet, Eduard Steuermann, piano, Arnold Schoenberg, conductor (recorded in 1940)
Arnold Schoenberg (1874-1951) / Gustav Falke
Brettl Lieder (1901) Nachtwandler
Claudia Barainsky, soprano, Michael Hasel, piccolo, Florian Dörpholz, trumpet, Dominic Oelze, snare drum, Urs Liska, piano
Arnold Schoenberg (1874-1951) / Erich Otto Hartleben after Albert Giraud
Pierrot lunaire op 21 (1912) XII. Galgenlied (May 12)
Erika Stiedry-Wagner, recitation, Leonard Posella, piccolo, Rudolf Kolisch, viola, Stefan Auber, cello, Arnold Schoenberg, conductor (recorded in 1940)
Arnold Schoenberg (1874-1951) / Erich Otto Hartleben after Albert Giraud
Pierrot lunaire op 21 (1912) XII. Galgenlied (May 12)
Patricia Kopatchinakaja, recitation, Julia Gallego, piccolo, Meesun Hong, viola, Thomas Kaufmann, cello
Arnold Schoenberg (1874-1951) / Erich Otto Hartleben after Albert Giraud
Pierrot lunaire op 21 (1912) XII. Galgenlied (May 12)
Ethel Semser, recitation, Edward Walker, piccolo, Gwynne Edwards, viola, Willem De Mont, cello
Argo RG 54
Arnold Schoenberg (1874-1951) / Erich Otto Hartleben after Albert Giraud
Pierrot lunaire op 21 (1912) XII. Galgenlied (May 12)
Phyllis Bryn-Julson, soprano Ensemble Modern, conductor Peter Eötvös
RCA 09026 61179 2
Arnold Schoenberg (1874-1951) / Erich Otto Hartleben after Albert Giraud
Pierrot lunaire op 21 (1912) V. Valse de Chopin (May 7)
Helga Pilarczyk, recitation, Maria Bergmann, piano, Jacques Castagner, flute, Guy Deplus, clarinet and bass clarinet
Agreement 476 8862
Arnold Schoenberg (1874-1951) / Erich Otto Hartleben after Albert Giraud
Pierrot lunaire op 21 (1912) XI. Rote Mass (April 24)
Patricia Kopatchinakaja, recitation, Julia Gallego, piccolo, Meesun Hong, viola, Thomas Kaufmann, cello, Reto Bieri, bass clarinet, Joonas Ahonen, piano
Arnold Schoenberg (1874-1951) / Erich Otto Hartleben after Albert Giraud
Pierrot lunaire op 21 (1912) XVI. Gemeinheit!
Helga Pilarczyk, recitation, Maria Bergmann, piano, Jacques Castagner, piccolo, Guy Deplus, clarinet, Luben Yordanov, violin, Jean Huchot, cello
Agreement 476 8862
Arnold Schoenberg (1874-1951) / Erich Otto Hartleben after Albert Giraud
Pierrot lunaire op 21 (1912) X. Raub (9 May)
Patricia Kopatchinakaja, recitation, Julia Gallego, flute, Reto Bieri, clarinet, Meesun Hong, violin, Thomas Kaufmann, cello, then Joonas Ahonen, piano
Arnold Schoenberg (1874-1951) / Erich Otto Hartleben after Albert Giraud
Pierrot lunaire op 21 (1912) XVII. Parody (May 4)
Helga Pilarczyk, recitation, Maria Bergmann, piano, Jacques Castagner, piccolo, Guy Deplus, clarinet, Luben Yordanov, violin, Jean Huchot, cello
Agreement 476 8862
Arnold Schoenberg (1874-1951) / Erich Otto Hartleben after Albert Giraud
Pierrot lunaire op 21 (1912) XXI. O alter Duft (May 30)
Patricia Kopatchinakaja, recitation, Julia Gallego, flute then piccolo, Reto Bieri, clarinet then bass clarinet, Meesun Hong, violin then viola, Thomas Kaufmann, cello, Joonas Ahonen, piano
TO SEE -> a filmed version of Lunar Pierrot with Patricia Kopatchinskaja and the musicians of the Orchester Philharmonique de Radio France on the
France Musique Youtube channel