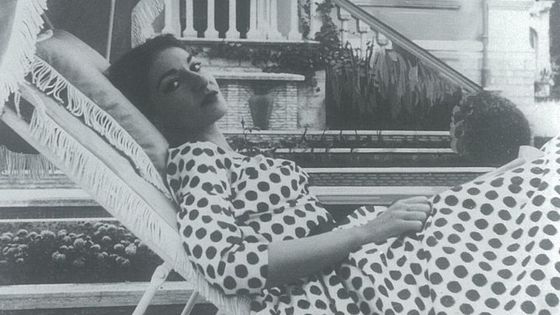 "Scandal, Disgrace, Caprice, Shame, Storm, Affront"
1958, Maria Callas is banned from singing at the Rome Opera
Nicknamed the Divina, the singer Maria Callas overturned the lyrical interpretation by the dramatic force with which it permeated all his roles. She tackled a very vast repertoire thanks to a voice of exceptional timbre and range, but also thanks to her breathtaking ability to integrate new roles. Her legendary voice, as well as the public persona she built over her best years on stage, make Maria Callas one of the greatest singers of the 20th century.
Of Greek descent and born in New York to immigrant parents, Maria Callas discovers singing on the radio and the retransmissions of the operas of the Metropolitain that his mother makes him listen to at home. She took a few piano lessons, but it was above all by singing that she was spotted for a particular grain and a rare musicality. Music quickly becomes her escape: she is a lonely child and feels unloved in this broken family, as she later recounted during her life.
After the separation of her parents, Maria Callas returns to Greece with her mother. She took singing lessons there and ended up joining the Athens Conservatory, in the class of Elvira de Hidalgo, who would also become her confidante. Maria Callas works with rare determination, and quickly begins to perform small roles at the Greek National Opera. She began a professional career at 17 in operetta boccaccio of Franz von Suppe, chained roles in the Opera, and during the war, gave recitals for German and Italian soldiers to earn money. At the Liberation, she decided to go back to the UNITED STATES and distances himself from his mother, who for all these years has been his impresario in Greece.
Once in the United States, all of Maria Callas' attempts to get hired in a production fail, but the meeting with the conductor Tulio Serafin opens the way to consecration. Serafin commits it to La Gioconda of Ponchielli in Verona, and brings her to Italy. It is with Serafin that she will sing in Tristan and Iseult And the Valkyrie of Wagnerand will learn in just six days the role ofElvira to replace at short notice Margherita Carosio in The Puritans of Bellini. This is the key moment in his career, the unanimous recognition by critics and the definitive orientation of Callas towards the bel canto and the Italian repertoire : it breathes new energy into the works of Cherubini, Donizetti, Bellini, Rossini and Verdi. It was also at this time that she met her husband and impresario, Giovanni Battista Meneghiniwho will manage her career for ten of the most fruitful years of her life: Maria Callas is applauded by the whole world, especially in the Scala in Milanbut also at London's Covent Garden and at Metropolitan Opera of New York. She tackles her biggest roles, including norma, his favorite role. Maria Callas also changed her image: with a rather strong constitution, she began a radical slimming treatment, and became an icon of elegance; the Diva was bornand his private life becomes public.
His meeting with the Greek shipowner Aristotle Onasis marks the beginning of a romantic relationship that ends up taking him away from the stage. Between 1959 and 1965, she only appeared in a few rare productions in Paris, London and New York. She moved to Paris, gave rare recitals and tried to become a teacher, but without much result. Betrayed by Onasis who married Jackie Kennedy, and her voice, now weakened and damaged, she spent her last years in solitude and died prematurely at the age of 53.
-> Complete biography of Radio France Documentation to be found
here
Musical programming
Vincenzo Bellini (1801-1835)
Norma (1831) Act I. Sc 4. Casta Diva
Maria Callas, soprano, Chorus and Orchestra of the National Theater of the Opera of Paris, direction Gelrges Sebastian
INA RAM Memory MV083
Vincenzo Bellini (1801-1835)
Norma (1831) Act I. Sc 4. Casta Diva
Maria Callas, soprano, Chorus and Orchestra of the Opera of Rome, direction Gabriele Santini
Italian Radio recording
"Maria Callas interview with Bernard Gavoty: "One hour with Maria Callas""
One hour with Maria Callas, interview with Bernard Gavoty in June 1964
Wolfgang Amadeus Mozart (1756-1791)
Don Giovanni (1787) Act II. Aria by Donna Anna "Non mi dir"
Maria Callas, soprano, Orchester du Mai Musical Florentin, conductor Tullio Serafin (recorded January 27, 1953)
Warner 0825646340033
HIS INA
Maria Callas in Paris for a few hours, interviewed at Orly when she got off the plane
Gaetano Donizetti (1797-1848)
Lucia di Lammermoor (1835) Act I. Aria de Lucia "Regnava nel silenzio"
Maria Callas, soprano, Athens Festival Orchestra, conductor Antonino Votto (recorded August 5, 1957 in Athens)
Giacomo Puccini (1858-1924)
Tosca (1900) Act II. Air de Tosca "Vissi d'arte"
Maria Callas, soprano, New York Metropolitan Opera Orchestra, conductor Dimitri Mitropoulos (recorded November 25, 1956)
Hunt CD 537
Vincenzo Bellini (1801-1835)
Il Pirata (1826) Act II. Air and Cabalette by Imogène "Col sorrizo d'innocenza"
Maria Callas, soprano, Philharmonia Orchestra, conductor Nicola Rescigno (recorded in the studio in London in September 1958)
NDE 5664592
Giuseppe Verdi (1813-1901)
Traviata (1853) Act I. Aria de Violeta "Sempre libera"
Maria Callas, soprano, Dallas Symphony Orchestra, conductor Nicola Rescigno (recorded in rehearsal November 20, 1957 in Dallas)
NDE 5679212
Giovanni Rossini (1792-1867)
The Barber of Seville (1816) Act I. Sc 2. Aria by Rosine "Una voce poco fa"
Maria Callas, soprano, Orchestra of the National Theater of the Opera of Paris, direction Georges Sebastian
INA RAM Memory MV083
Giovanni Rossini (1792-1867)
The Barber of Seville (1816) Act I. Sc 2. Aria by Rosine "Una voce poco fa"
Maria Callas, soprano, Orchestra of the National Theater of the Opera of Paris, direction Georges Sebastian