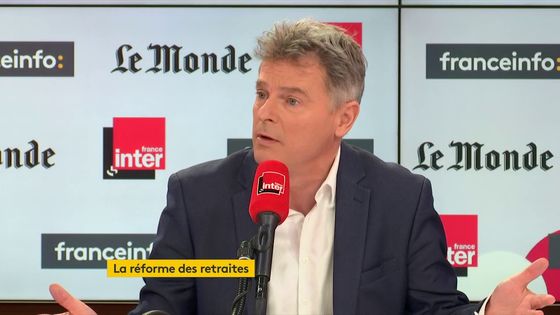 For Fabien Roussel, more than a big blur on the days to come after the forced passage on the pension reform, it is "the great chaos": "I warned of the risk of social chaos in the country if the President of the Republic and the government were stubborn, remained inflexible and intransigent with regard to the rejection of the French on this law: we are there. From when the employees, the world of work, are legitimate when they express themselves? It has been more than 50 years since we have seen a social movement of this magnitude. There have been ten demonstrations, several million demonstrators. never seen that!"
Even in the event of validation by the Constitutional Council, "we are not going to bend the saplings"
The long-awaited decision of the Constitutional Council on the bill will have no impact on this mobilization, he assures: "I respect the Constitutional Council, whose role is to judge in law. Me, I am a political leader: and like the unions, like the French, it is not because it will validate or invalidate that we will bend Gauls! This reform will remain unjust, and therefore we will continue to fight and oppose it."
The PCF, like LFI and EELV, refused to accept the appointment proposed by the Prime Minister this week. "There is no desire on our part not to respect the institutions"assures Fabien Roussel. "I had the opportunity to tell the Prime Minister, since I spoke with her yesterday for about twenty minutes on the phone. She was the one who called me, and I asked her if she put on the table the pension reform and the question of a pause or a non-promulgation: no. She made it clear to me that the agenda was not to put a pause on the reform. The unions will go there and hear them too that there is nothing to discuss about this pension reform.
A delegation of parliamentarians received Tuesday at the Elysée?
A gathering of parliamentarians is however planned for Tuesday, at the initiative of the PCF: "I would like to reassure those who are worried: our stress. Everything will be fine. Respect us, respect democracy, and everything will be fine: the parliamentarians will be in front of the Elysée Palace to solemnly deliver a letter to the President of the Republic, asking him to take charge and withdraw this reform. We will do it with respect for the institutions, it is not a question of demonstrating towards the Elysée. Fabien Roussel ensures that a delegation will be received on this occasion: "We asked for it, and it's building."
He also denounces the executive's contempt for parliamentarians: "When she asked me why I didn't want to talk to her, I told her that she had to hear our anger: I have been elected for less than a year, and I have been deprived of my vote 11 times! And I was deprived of it on a major reform, that of pensions. We do not feel respected, how do you expect us to respect you? How do you expect there to be a dialogue between us when we are at this point humiliated and scorned?
More broadly, he joins other left-wing personalities, such as Jean-Luc Mélenchon, who denounce ill-adapted institutions. "For us, there is no providential man or woman whatsoever: the Fifth Republic which revolves around a man, we see what harm it does to us today when this man dies. arrogates all powers, confines himself to his Elysée Palace and that he is above ground. We must come back to this. The democratic requirement that is asserting itself today, the rejection of Mr. Macron, the isolated man, it gives rise to another desire: to have the respect of the French, supported by a team.