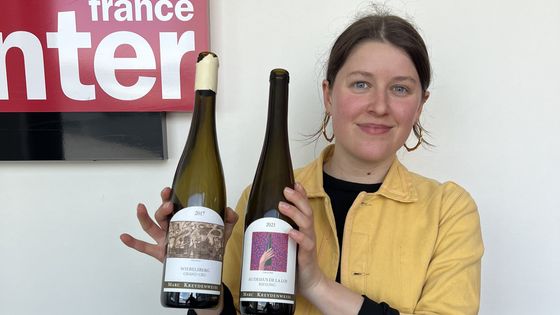 Your glasses are full. The clue is this very elongated bottle, which is difficult not to notice in a blind tasting. Same shape as the pointed steeples that protrude from the landscape in this hilly region. The wines also stretch towards the sky, with the acidity of the grape variety. Who is he ?
It's a Riesling. Alsace. Alsatian Riesling is a dry wine, it is regulated. It is known for its youthful aromas of lemon, yellow fruits, white flowers, but above all for its mineral identity. Minerality. Aromas: you can smell flint, chalk, wet pebbles. Think of the smell of stones after a summer rain. In the mouth: a fine acidity, ripe, pleasant, juicy. Plus a long salinity that stimulates the appetite. That's all, minerality.
Suffice to say the jackpot against green vegetables loaded with chlorophyll. Sometimes with spinach, the astringency, the ferrous side or the bitterness scare the wine. To settle the matter, a well chiseled Riesling, with persistence to play with these vegetal notes. I also like it with aromatic herbs, fennel, green beans, peas. And more broadly, at the table, the salinity of Riesling tends to act as a flavor enhancer.
And you, why do you like Riesling? I asked this question to several winegrowers and winegrowers. They all answered me the same thing.
For its ability to express the terroir, for its adaptability to the terroir, it is a terroir sponge, etc., etc.
It has the merit of being clear !
So it's not necessarily easy to understand what they mean by that. Julie Fuchs, an Alsatian winemaker, usually puts all her Riesling cuvées on the table. By tasting, no need to explain. One of the Rieslings is structured, powerful, with a fresh finish. Marl-limestone soil. Another is delicate, crystalline, it spins straight. Granite floor.
Each floor has its mouthfeel. In any case perceptible thanks to artisanal work, in organic. And it must be said that there is quite a playground in Alsace. A mosaic of terroirs without equal. A village is easily located on 4 to 5 different formations, the Vosges barrier or the black forest in the background.
But then not always easy to identify Riesling?
Not always easy. Sometimes customers of the winegrower I was talking about taste and say "it's not Riesling" because it's very different from another cuvée that they may have enjoyed.
The remedy to find your way around: taste, taste again. I suggest you get started now. I got a little ahead, don't blame me.
This wine, pure as crystal, we have a great dynamic in the mouth, it hurtles. The taste is so intense it feels like it clings to the inside of the cheeks, lots of texture. And this power of salivation… It wakes you up, doesn't it?
Domaine Marc Kreydenweissa starred vineyard, an avant-garde domain on biodynamic cultivation and on an idea: the terroir must dominate the grape variety.
Small translation?
No grape variety name on the bottles to avoid preconceived ideas. We are not going to look for Riesling for its characteristic aromas of fruit. We want to gain complexity. For this, the winemaker Antoine Kreydenweiss lets his wine ferment for up to 4 years, naturally, without adding anything. A feat seen the splinter in the glass. All this takes place in old Alsatian tuns. Wooden barrels so high that you feel like you can enter them like the door of a small house.
The wine, I tasted it over four days, always kept in the fridge with the cork, each time it revealed something else. After years like that in barrel, in bottle, we can give it time to wake up. And open it a few hours in advance.
And it seems that you brought us a surprise?
If you like this mineralization of the wine, already pushed by a long ageing, you should try to leave it in the bottle. 10-15 years for a classic Riesling, 20-25 for a Grand Cru. Riesling ages beautifully, it even gives the effect of rejuvenating over the years. You buy one bottle for now, you buy a second to forget about it.
For an early preview, the winemaker actually left me a gift, a grand cru of 2017. A wine of fullness, a caress. You can see that these oily notes of Riesling arrive over time, which some consider a defect but which I personally love. And this subtle bitterness should go hand in hand with that of the spinach.
And on the price side?
It's a gift, so I won't say anything! The first vintage, Above the Law, 22 euros. I also tasted several Rieslings, I made a selection on the show's website. Only cuvées at less than 20 euros.
Selection of Alsatian Rieslings at less than 20 euros
Domaine Marc Kreydenweiss
12, rue Deharbé
67140 Andlau – France
Tel: +33 (0)3 88 08 95 83
E-mail :
marc@kreydenweiss.com

kreydenweiss.com
Domaine Christian BinnerRiesling Le Salon des Bains 2020/2021, 18 euros (organic/natural method wine)
Elegance for this pure and dazzling wine, with a very pleasant mouthfeel. Its substance, concentrated and powerful, evokes stone fruits. A vibrant salivation and beautiful bitterness magnify the finish. What a pleasure !

https://www.alsace-binner.com/vinification/
Domaine Leon Boeschriesling Les Grandes Lignes 2020, 10.60 euros (organic/biodynamic)
Tension and delicacy for this citrusy, joyful wine with a very good quality/price ratio, like the superb cuvée Breitenberg (17.80 euros), a tasty flesh of yellow fruits and wet stone, traversed by a mineral vein from the sandstone floor.

https://domaineboesch.fr
Domaine Paul GinglingerRiesling Drei Exa 2021, 16 euros (organic)
The nose on the mineral aromas and the citrus salad immediately charms. We taste the intact pulp of the fruit, juicy and refreshing, in a sharp mouth that does not lack elegance. To grasp the notion of salinity in wine, try tasting it.

https://www.paul-ginglinger.fr/
Henry Fuchs EstateRiesling Equinoxe 2021, 15 euros (organic)
White flowers saturate the nose against a background of mineral aromas. In a fine and limpid frame, the mouth is fleshy, traversed by some bitters. A tonic, invigorating wine that stimulates long salivation.

https://www.henryfuchs.fr/
Domaine Melanie PfisterRiesling Berg 2021, 17 euros (organic)
A first approach as intense as biting into a juicy lemon. Then the mouth is coated with fruity sweetness, with a slight sweetness. The energy of the wine and its salinity make you want to come back.

https://melaniepfister.fr/
Domaine Boehlerriesling Hahrenberg 2020, 16 euros (in organic conversion)
This gourmet wine, full of candied and tropical aromas, is crossed by an acid arrow. Very delicate, it is structured by bitterness. The salivation at the end of the mouth stretches it.

https://www.domaine-boehler.com
Domaine Amélie and Charles SparrRiesling Altenburg 2020, 17 euros (organic/biodynamic)
A chiseled and slender wine with a supple texture. Its flavor of zest persists after drinking the sip.

https://www.ac-sparr.fr/
Domaine Leo DirringerGrande Soif Riesling, 13.50 euros (organic) Precise, thirst-quenching, extremely fresh: a cuvée that is simply pleasant to drink!
Domaine Leo Dirringer 3, impasse de Mullenheim, 67650 Dambach-la-ville, France
Tel: 06 45 73 19 04